DRIVE-THRU
We know you've been missing community events. We have too. We know the event industry as a whole will not look the same as it used to for some time and we're keenly aware of how many people, businesses, charities, vendors, artists, staff etc. have been and will continue to be impacted.
While we've been sad we can't gather in the way we usually would for #KWRibfest, we're VERY excited to announce we'll be bringing KWRibfest to you Drive-Thru style! We'll be hosting the Downtown Kitchener Ribfest Drive-Thru August 15 & 16 from 11am-7pm at the Kitchener Memorial Auditorium. Donations for the Food Bank of Waterloo Region (of cash or non-perishable items) will be accepted, so please help us to support our local food bank and come ready with a donation.
Get ready for the saucy goodness you love, while we also stay safely socially distanced.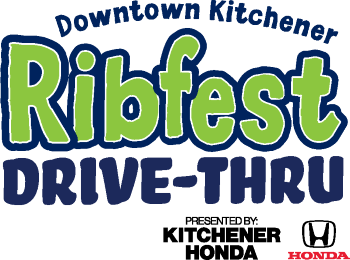 August 15-16
11am-7pm
Kitchener Memorial Auditorium
How does this work? Drive in, select the ribber you want, order, pay and receive your order, all while remaining in your vehicle. Enjoy your ribs at home. View the Site Map.
Food Bank of Waterloo Region - Bring a donation of food and/or cash in support of the Food Bank.
While we are sad we can't provide Craft Beer samples, Waterloo Brewing will be on-site offering vouchers for 30 beers for $60 of their Craft Lager, Dark or IPA redeemable at their brewery retail store! Pick some up on your way home to enjoy with your ribs!
Fast Pass! Want to skip the line and go directly to the front? A limited number of fast passes will be available for each hour allowing the vehicle to jump the queue. Cost is $10 + taxes and service charges. Fast pass holders, enter off Stirling Avenue. One Fast Pass required per vehicle.
Do you have a question about Ribfest Drive-Thru? Check out our FAQ Page.